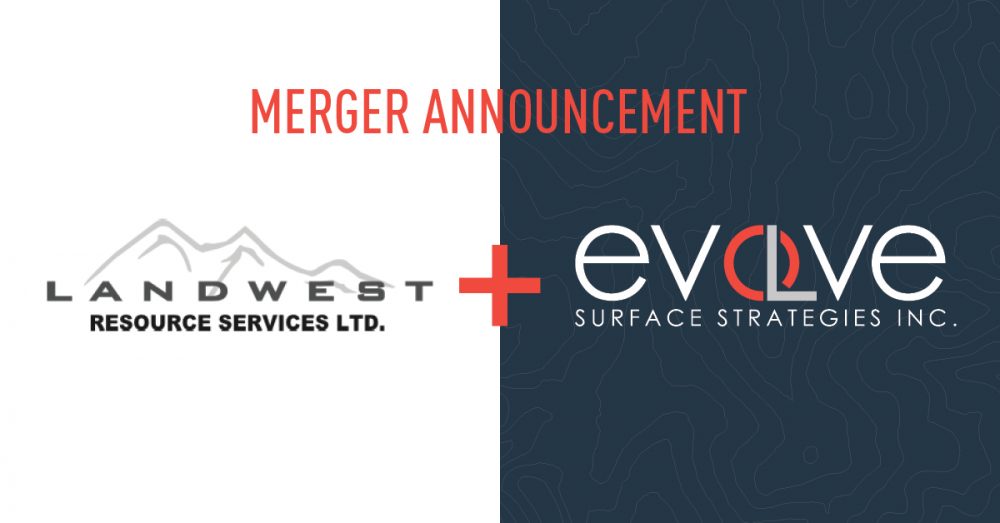 FEBRUARY 3, 2021
Evolve Surface Strategies Inc. (Evolve) and Landwest Resource Services Ltd. (Landwest) are very pleased to announce a merger between our firms effective Feb 1, 2021.
The Merger
Two very strong companies with like-minded cultures are joining forces to form an even stronger Evolve. On February 1st, both parties completed the transaction which will see Landwest become a part of the greater Evolve family and operate as Evolve Surface Strategies Inc. The opportunities for both companies to enhance service capabilities for existing clients, as well as potential clients, are greatly improved by the decision.
Why a Merger
Evolve and Landwest are very excited about the mutually beneficial combination of opportunities for our respective employees and clients.
For Landwest – We believe the merger will provide greater access and support for larger projects, enhanced services like GIS, exposure to the scaled-up digital business practices with Evolve, and a broad base of opportunities in diverse markets. Landwest clients will continue to work with their same contacts and maintain the relationships built over the years of success. We believe the Landwest brand of service, loyal staff, and resilient local presence in east central Alberta will be a great complement to the Evolve culture.
For Evolve – We believe the merger is another key step in meeting our growth strategy and our focus on Depth and Strength. This merger will secure key talent and expertise in upstream oil & gas, major projects, and infrastructure, as well as help Evolve enhance our speciality Non-Routine Team depth. The Landwest team is experienced, respected, and a trusted resource in the industry. Further, Landwest 's significant presence in East Central Alberta will be critical in growing the Evolve presence with prospective clients in all of our divisions. By maintaining the office in Camrose AB, the Landwest team will retain many great aspects of the culture that brought them 26 years of success.
This merger will allow us to build on the existing divisional platform Evolve has established in actively servicing key industries including; Midstream, Upstream, Renewables, Power, Telecom, Transportation & Municipalities.
What's Next
In the initial stage of the merger, we will begin to message the positive change to our clients and the broader market. We will spend time familiarizing the Landwest staff with key Evolve systems and methodologies. Gradually, we will begin to integrate the operational aspects of both teams creating additional value opportunities for all our clients. Evolve and Landwest representatives will be contacting our valued clients and industry contacts during the month of February with additional details.
The firms will combine workflow under Evolve's operation and legal entity effective Feb 1, 2021.
Functionally, there will be no changes to key client contacts, and there will be no disruption to client workflow currently being handled by Landwest or Evolve.
Evolve team will work closely with Landwest staff to identify opportunities for workflow integration and improved best practices as a combined firm.
Landwest staff will be introduced to Evolve systems and processes.
Landwest office in Camrose will continue to be a hub for the team and culture for Evolve.
Shawn Brown, President and Owner of Landwest, will retain an active senior role with the Evolve team and maintain all existing relationships with clients and staff, as well as be introduced to new ones.
All current contact information will remain active for both Evolve and Landwest employees. Additional information, including updated contact information for Landwest staff, will be provided in the coming weeks and months.
We look forward to demonstrating how our enhanced service capabilities and increased depth of talented professionals, maintains our reputation as a leader among right of way and land acquisition firms.
---
For more information call us at  1 (403) 912-2600